The Hiroshima Intelligent Hotel Main Bldg. is a 7-minute walk from Hiroshima Station. We are the nearest hotel from Mazda Stadium (2-minute walk).
Next to the Hiroshima Office Centre that is the most inexpensive meeting rooms in Hiroshima.
We also have parking lot whose capacity is 50 cars.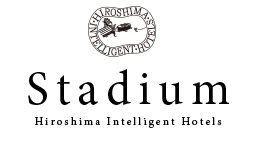 Hiroshima Intelligent Hotel Main Building
〒732-0805 3-36 Higashikojin-machi Minamiku Hiroshima, Japan 7320805 TEL: 082-263-7000
Access by Train
Access by foot from Hiroshima Station
| | |
| --- | --- |
| JR Hiroshima Station | 7 min walk from South Exit |
Please come out from the South Exit of the Hiroshima Station, turn right and go straight. You can see Tsutaya-kaden.
Please proceed straight ahead in front of Futaba Book store.
Pass by the front of the bicycle parking lot. Descriptions about Mazda Stadium are on the left.The sidewalk (pavement) toward the Stadium is called Carp Road which is painted red. Please walk the Carp road along the track.
You can see the railroad crossing on your left, but go on Carp Road without crossing.
Our hotel is in the immediate point that passed through the Kojin overpass.

Access by Car
Parking
There is a parking lot dedicated reception place in the parking lot where you enter from the alley next to the main building.
In addition to the tower parking, the hotel has a parking space under the new parking space, under the new wing, and also has a parking space where large buses can be parked under the Kojin Overland Bridge. About 50 cars can be parked in total.
(For parking spaces, please park according to the instruction of parking lot reception)

The following is the overnight charge.
Horizontal scrolling
| | Price (1 day) | Time spent |
| --- | --- | --- |
| Parking | 1,100yen | 4pm~10am |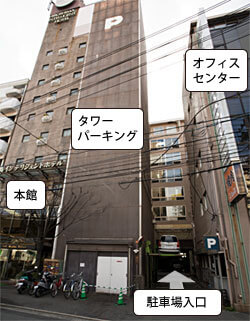 From the expressway
If you change from Sanyo Expressway, Hiroshima East Interchange to High-speed Route 1 and get off from the interstitial entrance, go straight on Route 70.
Turn left at "Higashi Kaniya-cho intersection". (please proceed on Akebono Street)
Then you will see Kojin Overland Bridge, so I will cross. (Keep the center lane at this time)
Turn right at "Kojin Intersection" immediately after descending the Kojin overbridge.
At the next intersection, turn right and continue until the end of the railroad crossing at the end and turn right again.
It will come under the Kojin overbridge. The hotel is just next to the overpass.
Please make a right turn around under the overpass and enter. There is an entrance to the right of the parking lot, right from the front of the hotel. It is a narrow alley between the Hiroshima office center and the hotel.
Since the road in front of the hotel is a one-way street, please enter the side street on the left side of the overbridge in cases other than from above the overpass.